>
Furano Famous Souvenirs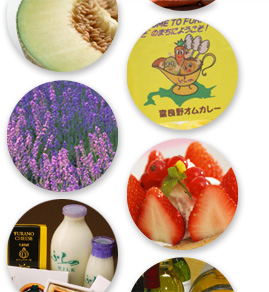 Choose various souvenirs based on your budget and purpose.
Plenty of Furano agricultural products, cheeses, wines, sweets, sauces and prepared packaged foods to choose from. Make your own one-of-a-kind hand craft to take home or choose one of the simply clever knick-knacks, there are so many things you will not know what to choose! Stop in at each shop if you have time, or if you are in a hurry, check out "Ningle Terrace" on the premises of Shin Furano Prince Hotel or at Furano Marche, the newest site in Furano.