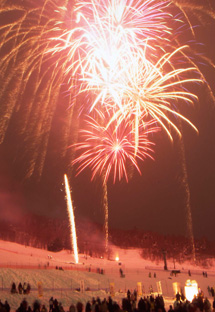 The Ski Festival is one of the biggest events in Furano's winter season. Held at Furano ski area at the base of the Kitanomine Zone, the festival has many events, including a fireworks display and outdoor bazaar. Everyone is welcome to enter this event and try for the prize. This festival brings warmth and laughter to Hokkaido's cold winter.
Big air competitions and a fireworks display are held on the Saturday night with warm drinks, hot food and beer and wine flowing around the festival.
Kids are kept entertained with an array of events and games. There is even a massive snow castle where you can slide down on the ice slides from the top of the castle back down to the bottom.